Security today is a concern that people are taking more seriously. For better security, it is essential to find the best locks and which ride on the best of the latest technologies. Biometric door locks provide some of the latest security solutions. Its mechanism usually relies on the positive identification of a registered body part through performing a scan. The fingerprint biometric door locks are vastly used today. However, one must understand what a good biometric lock should have. Here is a review of the best biometric door locks that you can find on the market;
Samsung Shs-P718-Lmk
Samsung is a renowned technological company and its products command high respect on the market among competitors. The company has a tradition of daring into a lot of electronics and tech production fields. It is, therefore, no wonder that they are now on the market having diversified into the security field. This Samsung biometric lock responds to the touch signal and its biometric trigger systems are multifaceted. One can gain access through the lock in different ways as they have the RFID offering. This is coupled with the code input option that ensures one is not limited when it comes to what they choose as an access method. The lock has been tested and guarantees a very low rate of false rejection, has a keypad as well as a touchscreen display. Its cost is an accurate reflection of its performance and if you have valuables that require top-notch security, this biometric lock will not let you down.
Lockly
Also referred to as the next gen fingerprint door lock and is identified for being keyless. Some features include the convenience of a touchscreen system. Print detection functions by the highly effective facilitation of 3D sensors. 3D sensors are thorough and concern with detail to keep false negative chances as low as possible. There is additional Bluetooth functionality that is compatible with both iOS and Android. This also means that auto-lock is offered. All these features come at a more pocket-friendly cost which adds to cost-efficiency advantages.
Ultraloq Ul3 Bt
This is an option for those preferring standard biometric door locks that are OLED-enabled. However, the lock is technologically at par and comes with a slick design that anyone would love based on current standards. If the aesthetics of the built of this lock do not impress you enough, its performance that is satisfactorily instantaneous and coming with security that is multi-tiered will tip your reservations in its favor. Its durability is another desirable element of this biometric door lock.
Zkteco Tl400b
We consider this lock as one representative for the standard types. It stands out for its RFID implementation that is biometric integrative. There is Bluetooth functionality which means that biometrics are saved from frequent use that can, otherwise, get them messed. With optical 3D, the lock is quite sharp with this biometric type. The lock is effective and secure and may not have fanciful aesthetics, but reliability more than compensates for this.
Ardwolf A1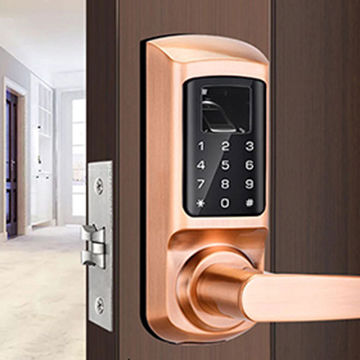 Now to an effective but basic option. Ardwolf is not rich in the features that you may want to see in the book-description of a biometric door lock. However, this is about simple security delivery in just a biometric way. Its reliability is great, has satisfactory detection with some issues with false negative. However, it is affordable and is the type that is to the budget. It is about focusing on functionality as opposed to elaborateness and aesthetics. Installing them is just like guarding your home with security guards that can repel any attack on security. Alternatively, you can purchase firearms & tactical equipment to make your home secure from any unwanted intrusion.
Conclusion
Some of the best biometric door locks are not necessarily the ones with complex features. It is the kind that uses technology that enables it to do what it should do. You may take a look at these options as a guide in your effort to find the type that you want. Of course, the budgetary aspect is a paramount consideration.