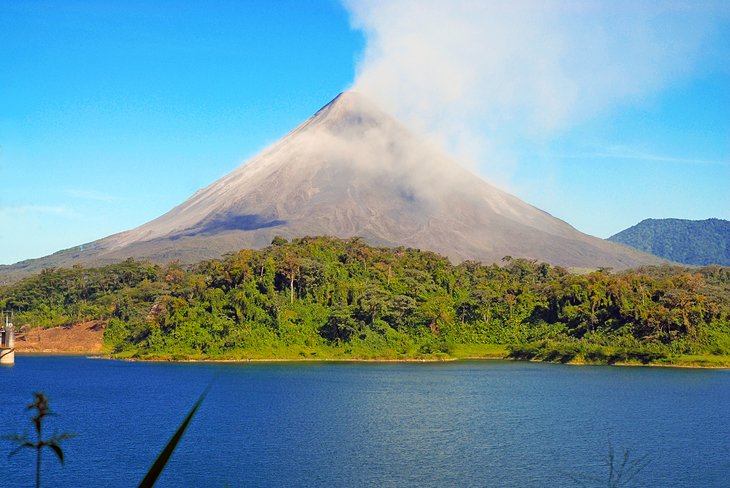 Costa Rica has a number of points in its favor as a vacation destination. It has rainforests and amazing beaches. It has a large English-speaking population. It has affordable vacation destinations and luxury resorts, though it isn't over-developed like some other places are. But where should you go in Costa Rica? Here are the best vacation hotspots in Costa Rica.
La Fortuna
La Fortuna is a small town near Arenal, a now dormant volcano. The town is located near the base of the volcano. The volcano itself is in a national park. It is beautiful. The area is ideal for adventure tourists, since you can go zip-lining, rappelling and white-water rafting. And it is the location of an amazing hot spring. In fact, there are a number of them in the area. Some hotels have their own on-site hot springs so you can enjoy a soak after a long day.
Osa Peninsula
The Osa Peninsula is the location of Corvocado National Park. It is sometimes considered one of the most biodiverse places in the world. This is a great place to visit if you're interested in ecotourism. It has very little of anything else because it is in the most remote part of Costa Rica. Fortunately, hotels know this. This means typically provide everything you need on site and offer guided tours when you're outside. You can also go scuba diving at Cano Island.
Tamarindo
Tamarindo is located on the north Pacific coast of Costa Rica. It is home to some of the most popular Costa Rica vacation rentals. The climate is as beautiful as the crystal-clear waters. You can find everything from luxury retreats to modest vacation houses for rent. This area gets points for the kayaking, surfing, rafting, and diving it has almost year-round. There are seasonal fishing opportunities, as well. And the area has an active night life.
Manuel Antonio
Manuel Antonio is probably the most popular destination in Costa Rica. The national park is a must-see when you're in the country. You can also visit the beach. You could go birdwatching, fishing or simply relax on the sand.
Ricon de La Vieja
This is far removed from the beaches and the rainforests. Instead, it continues the ranching and farming lifestyle of Costa Rica. This is a great place to experience the countryside and authentic Costa Rican culture. You're also in the shadow of the namesake Ricon de La Vieja volcano.
San Jose
San Jose is the capital of Costa Rica. It is also the largest city. Half the population lives here. That's why many tourists first see San Jose, since they're flying in and may spend a day there before heading on to their next adventure. But you may want to spend more time in San Jose. As the national capital, it has the most museums and theaters. It also has a ton of hotels and resorts. If you're interested in seeing something other than yet another international city, go on a coffee tour and see the coffee plantations. It is the coffee lover's equivalent of a wine tour in Sonoma, California.